So we went for a couple of days at my in-laws cottage in Haute Savoie with Akira. We had a great time and walked a lot in the mountains while Akira ran like a mad man, ate grass, smelled new flowers, discovered unkown animals, ... It was a fun week-end for everyone, here are the pictures.
Nous sommes allés pour quelques jours au chalet de mes beaux parents en Haute Savoie avec Akira. Nous nous sommes amusés et nous avons beaucoup marché en montagne pendant qu'Akira courait comme un fou, mangait de l'herbe, sentait de nouvelles fleurs, découvrait de nouvaux animaux, ... Ça a été un séjour agréable pour tous, voici les photos.
Sometimes he's kind of weird in the car!
Parfois il est un peu étrange en voiture!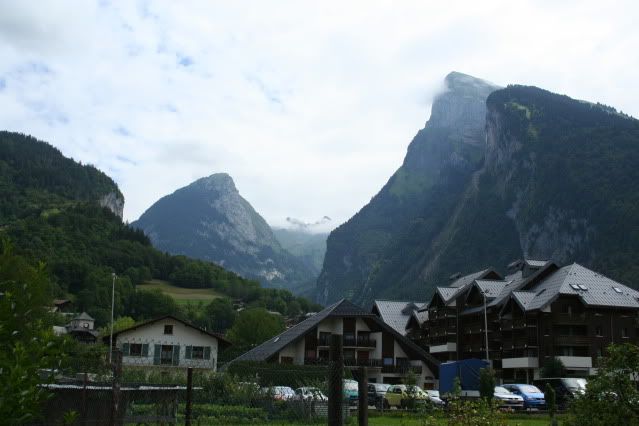 That's a picture I took from the vet's office. It's beautiful but we got ugly news from her. Akira seems to be allergic to something in his kibble, he has some kind of dried blood on his belly to prove it. I'm thinking that maybe there are too much vitamins in the kibble and that's what's making him sick. He had to eat rice with butter for the whole time we were there and he got some homeopathic remedy to drain his liver and kidneys.
C'est une photo que j'ai prise à partir du bureau du vétérinaire. C'est un endroit magnifique mais nous n'avons pas eu de belles nouvelles de la vétérinaire. Akira semble allergique à quelque chose dans ses croquette ce qui expliquerais les plaques de sang séché sur son ventre. Je me demande si ça ne serait pas un surplus de vitamines présent dans les croquettes qui le rendrait malade. Il a dû manger du riz au beurre pour tout notre séjour et a reçu un remède homéopathique pour drainer son foie et ses reins.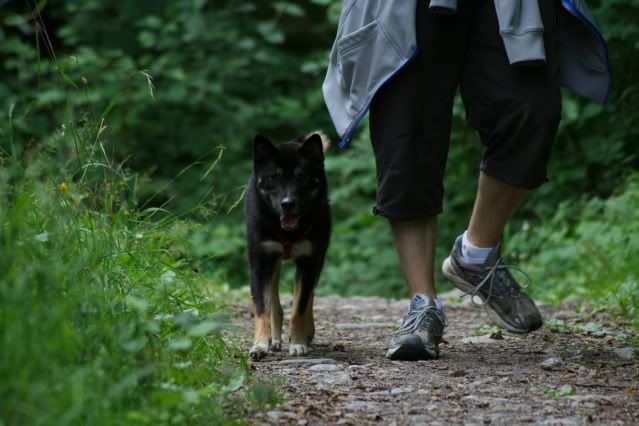 Still, it did not stop him from comming with us.
Ça ne l'a pas empêché de se balader avec nous.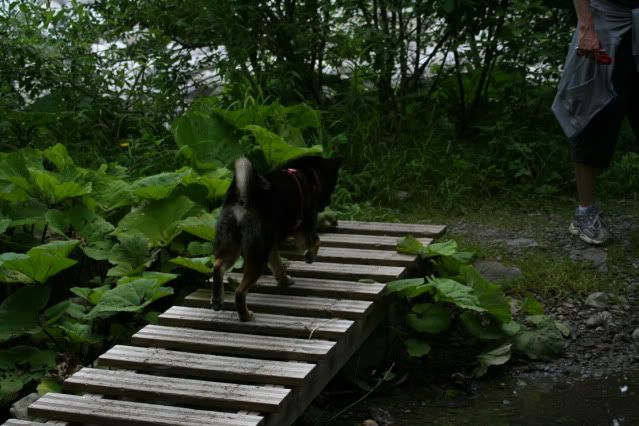 He is starting to take more risks.
Il commence à prendre plus de risques.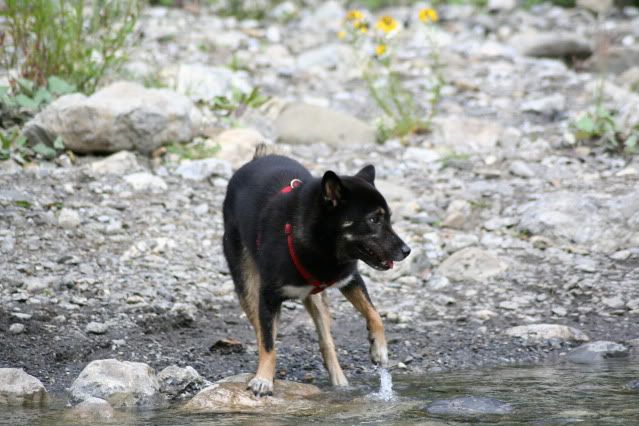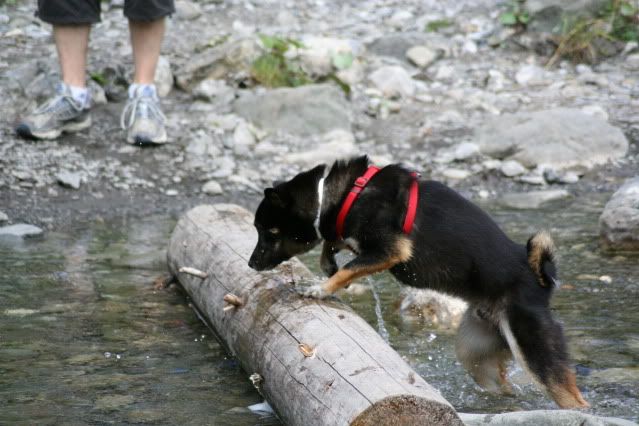 But he did not suceed on walking on this tree trunk, he fall all three times.
Il n'a pas réussi à marcher sur ce tronc d'arbre, il est tombé les trois fois.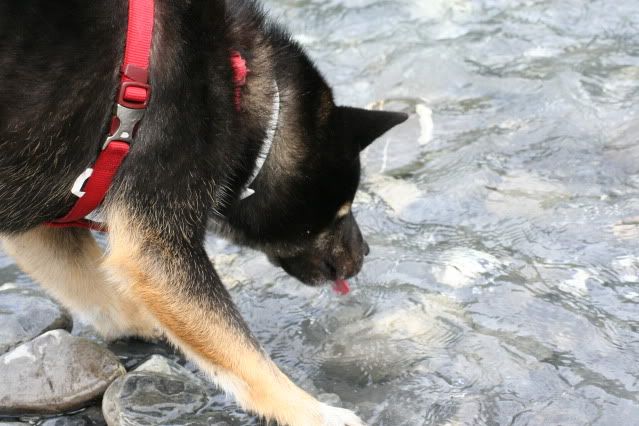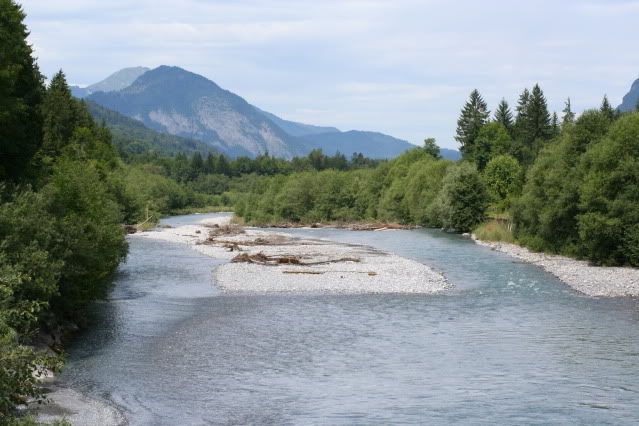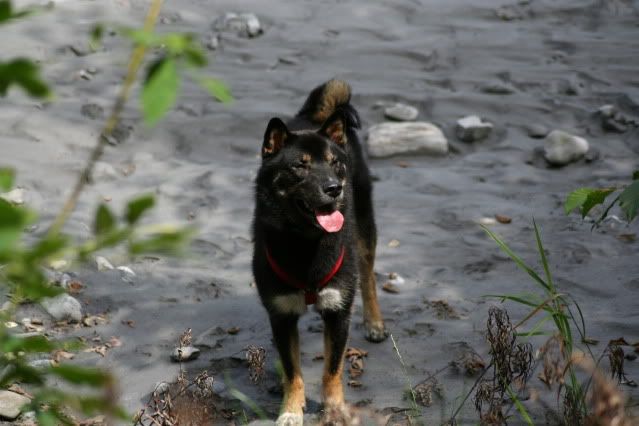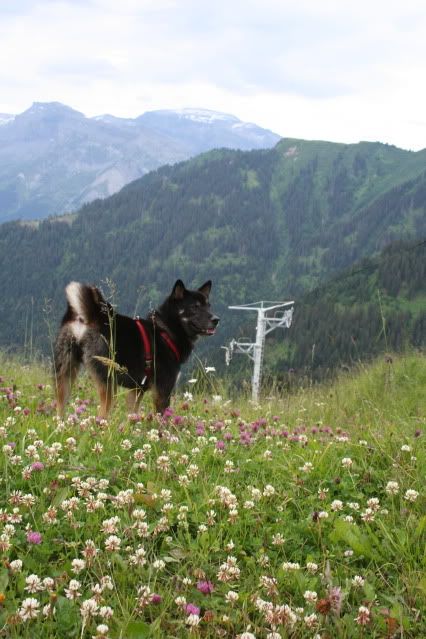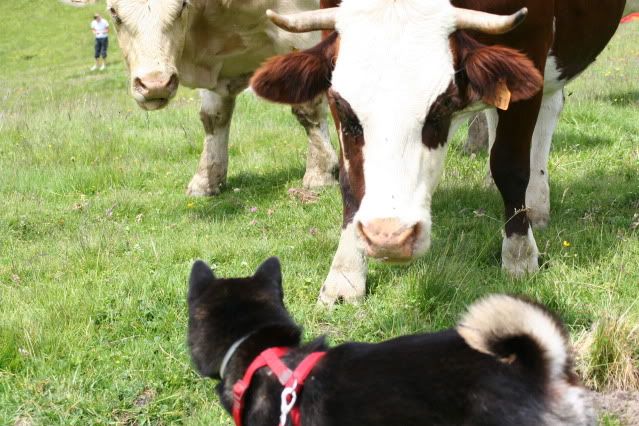 He got acquainted with grass hoppers, cows, mice, flies and dead frogs. He wanted to play with the cows but we did not let him for obvious reasons. Instead he got to roll and eat their poop ! lol!
Il a rencontré des sautrelles, des vaches, des souris, des mouches et des grenouilles mortes. Il voulait jouer avec les vaches mais nous l'avons epêché pour des raisons évidentes. À la place, il s'est roulé et a mangé leur bouses.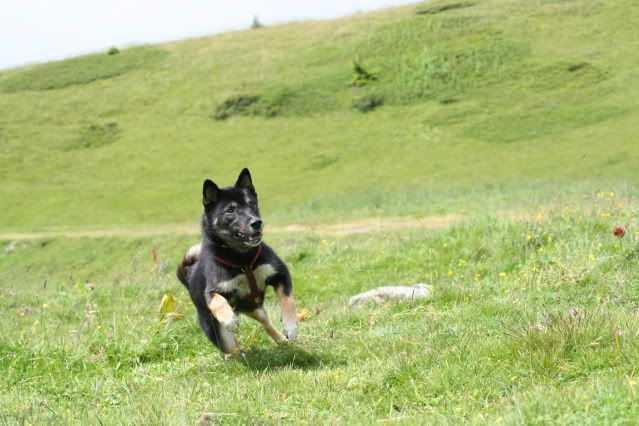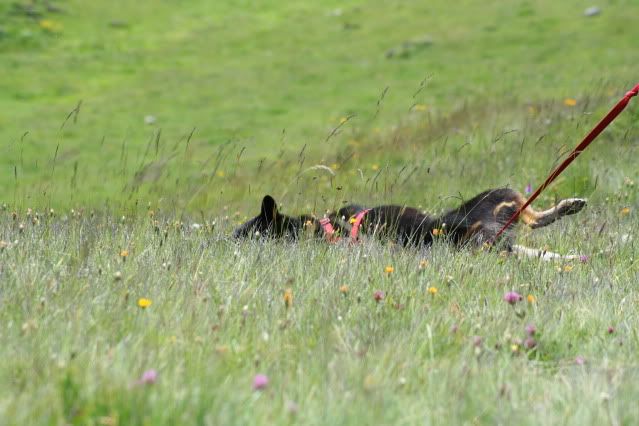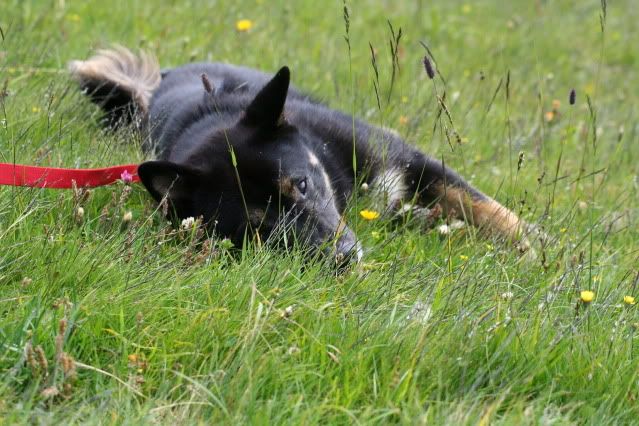 After four days full of pleasure and discoveries Akira was beginning to tire out.
Après quatre jours remplis de découvertes et de plaisir, Akira a commencé à être fatigué.
And to be dirty!
Et à être sale!